Beige Sportive Raincoat with Detachable Lining
Regular price
€799,00 EUR
Regular price
Sale price
€799,00 EUR
Unit price
per
Size Chart
1) Every item is made in our own sartorial workshop & 100% Hand Made in Italy!

2) Every Fabric handpicked by Pino Luciano.

3) Our silhouette and look is worldwide renowend.

4) If you order an in-stock garment you can return your purchase within 14 days if you are not satisfied by your purchase.

5) We produce only very limited quantities to keep the quality level for every single garment.

Any more questions? Please reach out to our in-house customer service and we will be happy to assist you: info@orazioluciano.com

Grazie Mille!
Every day, we simply accept the elements. Whether it be a brisk wind, or a passing sun-shower, we rarely look up and ponder the majesty of such an event. This is a piece for those who forecast, for those who embrace climactic uncertainly, in the knowledge that while weather is omnipresent, so is your ability to have dominion over it. 
Characteristics:
• Material: 100% Tech-Polyester
• Model: Casual Line Raincoat with detachable lining
• Color: Beige
• Inner lining: 100% Tech-Polyester
• Made in Italy
Share
FREE WORLDWIDE EXPRESS SHIPPING & RETURNS FOR ALL ORDERS OVER 600€

For all orders of less than those mentioned above, shipping costs will be:

(i) 17,00 Euros in Italy and the EU

 (ii) 49,50 Euros in the other destinations worldwide.

In any case, the shipping costs will be calculated and displayed in the summary of the order prior to its transmission to the Seller.

Returns for in stock items are always free of charge!

Delivery of the products purchased on www.orazioluciano.com usually occurs within 5 working days in Italy and the EU and within 8 working days in all other destinations.

We don't do deliveries in the territory of Russian Federation.



Right of Withdrawal for MTO (Made to Order) Items

MADE TO ORDER Items, mentioned as "MTO" on the Product Page or in the shop in general - are produced especially for you and they cannot be returned and therefore we cannot refund you a MTO order.

If you have any questions please reach out to our customer service at any time: info@orazioluciano.com – we are happy to assist.

We will ship the product(s) in your order via DHL® courier to your delivery address. The courier will require a signature from you (or an adult authorized by you) upon receipt of the products. Please note that we will not deliver products to PO boxes, and we will only deliver on normal working days/hours (not on weekends or public holidays).

You may check the progress of your order by following the link in your confirmation email or by going to the ORDER HISTORY section in the MY ACCOUNT area of our website, where you will be automatically redirected to the DHL website.

Delivery times are subject to delays in the event of festivities; couriers do not effectuate deliveries on the days of 25/12, 26/12, 01/01 or at weekends.

For orders placed with payment by credit card one working day must be added to the usual delivery times by reason of the usual administrative control procedures.

For orders of less than 800,00 Euros (including shipping costs) to be delivered in the territory of the United States, import duties will be free.
Returns for in stock items are always free of charge within 14 days of receipt.

Please reach out to our in-house customer service to organize the return pick up from your address: info@orazioluciano.com

Grazie Mille!
View full details
Size Chart Sportive Coats
Bomber Jackets
| | | | | | | |
| --- | --- | --- | --- | --- | --- | --- |
| Size | Back Length | Chest | Waist | Shoulder width | Sleeve length | Bottom |
| 46 | 88 | 54 | 52 | 46,4 | 86 | 56 |
| 48 | 89 | 56 | 54 | 47,7 | 87,5 | 58 |
| 50 | 90 | 58 | 56 | 49 | 89 | 60 |
| 52 | 91 | 60 | 58 | 50,3 | 90,5 | 62 |
| 54 | 92 | 62 | 60 | 51,6 | 92 | 64 |
| 56 | 93 | 64 | 62 | 52,9 | 93,5 | 66 |
| 58 | 94 | 66 | 64 | 54,2 | 94,5 | 68 |
"Elegance is not standing out, but being remembered."

Giorgio Armani
No Substitute for Quality

From the intricate stitching to the hand-selected materials, every element is treated with the utmost care and precision, ensuring that no imperfection goes unnoticed. The end result is a garment that not only embodies the time-honored traditions of tailoring but also serves as a testament to our uncompromising pursuit of unparalleled quality.

100% Made In Italy

From the initial cut to the final press, each and every stage of the production process is meticulously executed within the confines of our partner manufacturer in Italy.

Traditions

At the core of our brand lies an unwavering commitment to preserving the time-honored traditions of tailoring. By infusing our products with the knowledge and techniques passed down from generations of skilled artisans, we create a product that transcends the reach of others.
We have been making high quality formal & casual garments for the elegant man since early 90's.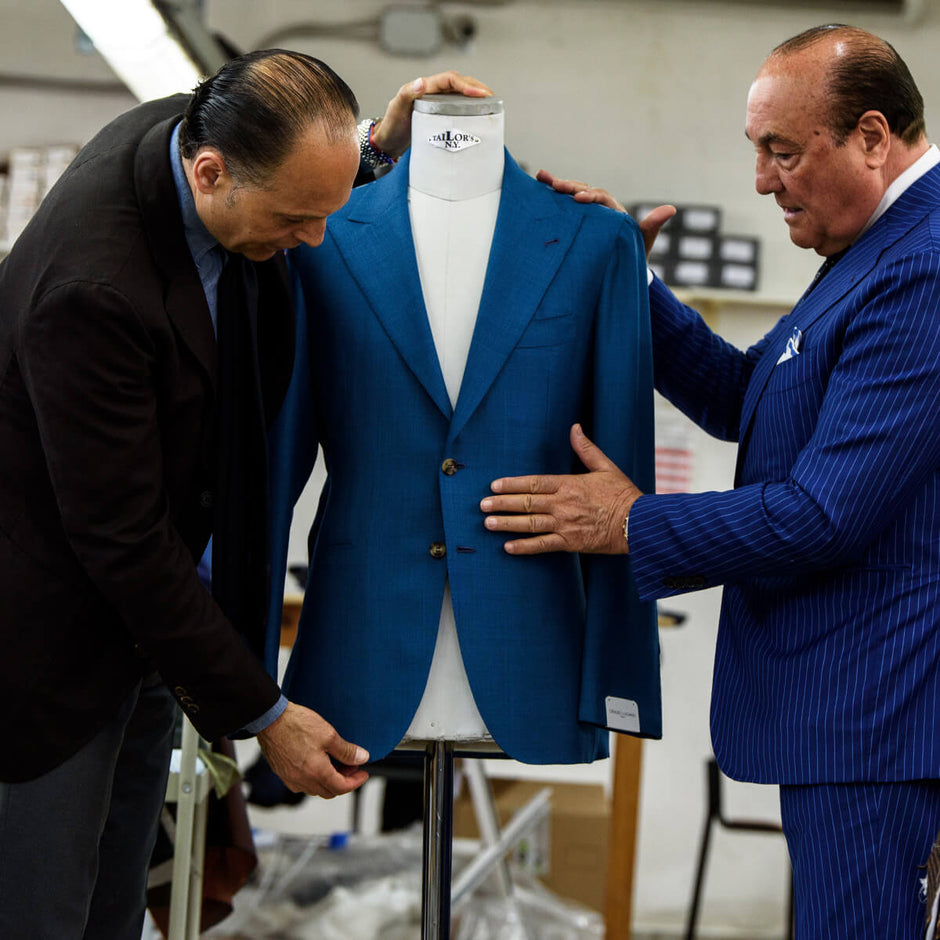 A Family Legacy: The Luciano Heritage
In the early '90s, the world of tailoring was graced with a new vision when Orazio Luciano, a former head cutter at Kiton, laid the foundation of our Company.
His unparalleled expertise and passion for craftsmanship set the stage for what would become a sartorial institution.
As time progressed, this legacy was embraced and elevated by his son Pino Luciani, who, with a blend of reverence for the past and a vision for the future, sculpted the brand into the beacon of elegance it is today.
Our approach to elegance is one of understated grace, challenging conventional sartorial norms to craft a distinct style narrative.
The essence of Neapolitan finesse is woven into every suit, jacket, coat, and minute detail we produce.
Our Ready-to-Wear collection, a symphony of artisanal craftsmanship, premium fabrics, and contemporary flair, has garnered accolades from esteemed sartorial establishments worldwide.
Do you have any questions? Please contact our in-house Customer Service at any time!